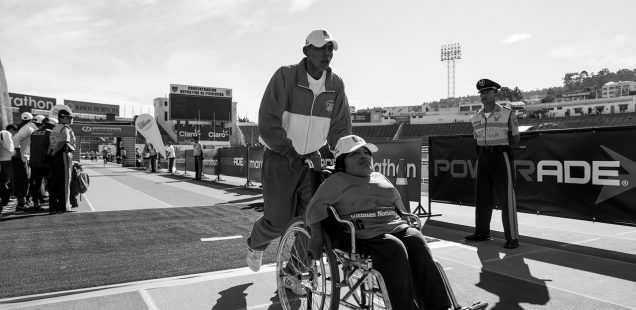 RCOC's Wellness Pilot Program Gets Underway
By Larry Landauer, Executive Director
This past June, several adults served by RCOC participated in a fun, different kind of graduation ceremony; they received their Certificates of Recognition for completing our 13-week Healthy Life, Happy Life pilot program. The event provided an opportunity to thank the Western University students who are helping to collect and analyze data as well as service providers (Creative Support; Independent Endeavor; Independent Options; L.I.F.E.; Michele V. Miller; Project Independence; and RIO) who graciously partnered with us to test this exciting new approach for improving the health and wellness of people we serve. This pilot was launched in response to National Core Indicators (NCI) data that shows most of adults receiving services from RCOC have a Body Mass Index (BMI) that classifies them as overweight or obese; a majority also do not engage in the recommended amount of moderate physical activity.
That's why I'm so excited to report that initial indications show we are on the right track with Healthy Life, Happy Life. We're still tabulating the data, but we do know that most of the participants who began the program showed the dedication and commitment to complete it. Most have also provided very positive feedback to us about how the program made them feel about themselves and their ability to make good choices.
In addition, many of the participants lost weight. The data we have at this time indicates the average weight loss was 11.4 pounds, but several people lost 30 pounds or more, and one person shed an amazing 37 pounds.
That is certainly positive news, but it's important to emphasize that weight loss is only a piece of the wellness puzzle. Our goals are much broader as we seek to educate and empower people in making changes that foster a healthier lifestyle. Whether it's making healthier food choices, getting a regular exercise routine, or learning to better manage stress, it's all about creating new habits that can make life better.