An important role and critical function of the Regional Center of Orange County is to advocate on behalf of people with developmental disabilities and their families.
The Center employs a peer advocate that individuals with developmental disabilities can call with questions or concerns. In addition, the Center supports families with special education advocacy services throughout a child's school age years, and connects families with other advocacy organizations.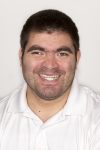 RCOC's Peer Advocate
RCOC's Peer Advocate, Jyusse "Jess" Corey, advocates for the people served by RCOC and provides information about issues related to self-advocacy and rights.  He also assists RCOC with implementing person-centered practices and assessing quality of life issues and satisfaction with RCOC services and supports.
If you have questions or concerns that you would like to discuss with RCOC's Peer Advocate, you can reach him via email at peeradvocate@nullrcocdd.com.
Developmental Disabilities Advocacy Partners
Disability Rights California (formerly Protection & Advocacy)
People First of California
State Council on Developmental Disabilities