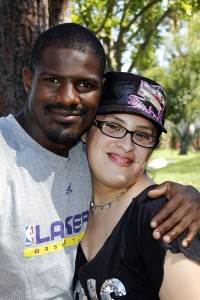 As the local agency contracted by the State of California to coordinate lifelong services and supports for people with developmental disabilities, Regional Center of Orange County (RCOC) provides services and supports that are as diverse as the people we serve.  Each person served by RCOC has an Individual Program Plan (IPP) – or, in the case of a child living with his or her parents, an Individual Family Service Plan (IFSP) — that addresses his or her individual needs, so it is impossible to generalize about what specific services and supports a person will receive.
However, for adult clients, these might include supported living services to help them live independently, or a job coach (provided through a supported employment service provider) to assist them in performing paid work in the community.  For children, an IFSP could include behavior management services for autism, for example, or therapies to address specific developmental areas such as speech or occupational therapy.
Below are lists of the types of services and supports available through RCOC, or that RCOC can assist clients and families access through other sources.
Department of Developmental Services – (Partial) List of Regional Center Services and Descriptions
Posting of the above link fulfills requirements found in Assembly Bill 959.  The list was developed with input from regional center staff, the Association of Regional Center Agencies and the State Council on Developmental Disabilities.  The list includes services commonly purchased by regional centers and descriptions for each service; however, the list is not fully inclusive of all regional center services and supports. The Department of Developmental Services will also translate and post the list in 10 additional languages.  The list can be found on the DDS website.
The following lists provide a summary of services and supports that are commonly recommended for each age group.
Early Start – Birth to 2
English
Spanish
Vietnamese
Korean
School-Age – 3 to 21
English
Spanish
Vietnamese
Korean
Adult – 22+