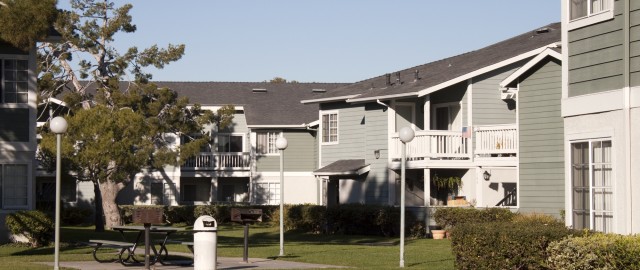 Harbor Village
Harbor Village is an apartment complex located in Costa Mesa, adjacent to Fairview Developmental Center. Units are available to the general public at fair market rent and also provides a safe, clean, affordable subsidized housing option to people with developmental disabilities.
The complex is a joint project between the Regional Center of Orange County and the California Department of Developmental Services.  Developed on state property, Harbor Village can and does provide transitional opportunities for former residents of FDC.
The Transitional Housing Program (THP) offers a variety of residential service opportunities and support functions.  The service option continuum is designed to provide all of the necessary components to transition a consumer from a large institutional setting to a less restrictive supported or independent living environment.
Of the 522 available units in the complex, approximately 10% of the units at Harbor Village are leased to people with developmental disabilities.  The complex boasts amenities that are found at many local apartment complexes such as open park space, swimming pool, barbecue/picnic facilities and an outdoor beach volleyball court.  Of the units that are specifically modified for people with developmental disabilities, 15 of these units are certified as ICF-DD (Intermediate Care Facilities -Developmental Disability) to serve people with significant needs.
Because of the limited financial resources often associated with people with developmental disabilities, the vast majority of these individuals rely on some form of housing assistance in order to qualify for residency.  Harbor Village is the largest HUD Section 8 Voucher participant in Orange County.
While statistics are not collected on why individual tenants are attracted to the complex, anecdotal evidence suggests that the favorable reputation enjoyed by the complex with respect to being a safe, clean, and inviting community for this particular population class to reside is a principal attraction for these individuals.
Integrity Cottages
Integrity Cottages, located in Anaheim is a former motel that has been converted into 48 affordable rental units for adults with developmental disabilities.
Parc Derian 
On Thursday, June 23, 2016, C&C Development and Innovative Housing Opportunities, in partnership with the City of Irvine, held a Groundbreaking Celebration for Parc Derian Apartment Homes.
The development encompasses over two acres and will have 25 one-bedroom, 26 two-bedroom and 29 three-bedroom units.  Parc Derian will be affordable and home to a vibrant mix of residents. 10% of units will be set aside for veterans, 5% (4 units) for people with developmental disabilities, and 5% for formerly homeless households.
Residents will be served by a wide range of amenities including a tot lot, outdoor barbecues, pool, outdoor fireplace, community garden, fitness room, community room, on-site laundry facilities, and secured bicycle storage. The numerous amenities will be complemented by complete social services programming for Parc Derian residents.