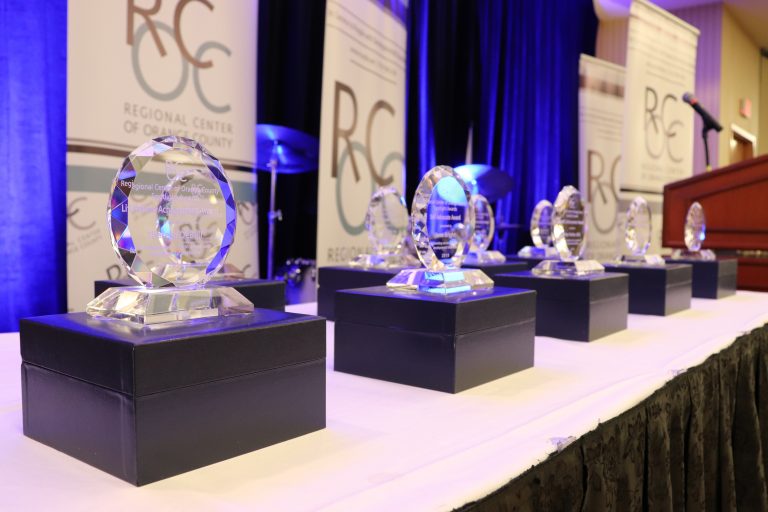 2020 SPOTLIGHT AWARDS




VIRTUAL EVENT
Thank you to everyone who made our inaugural
Zoom Spotlight Awards ceremony a success.
Congratulations to each of the honorees and
thank you to all who participated!
If you missed it, you can view a recording of the event here.
Nominations are now open for 2021 Spotlight Awards!
 Since 1997, the Regional Center of Orange County (RCOC) has hosted an annual event called the Spotlight Awards to recognize people and organizations who stand out as role models of selfless service and dedicated advocacy in working with people with developmental disabilities, such as intellectual disability, autism, cerebral palsy, and epilepsy.
You all know a person, group, or organization that deserves recognition! 
The Regional Center of Orange County's Spotlight Awards is one way to acknowledge their contributions to improving the lives of people with developmental disabilities in Orange County.
Learn More about the Spotlight Awards
Spotlight Award Categories – English
Spotlight Award Categories – Spanish
Spotlight Award Categories – Vietnamese
General Information and Nomination Guidelines
2021 Spotlight Awards Nomination Handbook – English
2021 Spotlight Awards Nomination Handbook – Spanish
2021 Spotlight Awards Nomination Handbook – Vietnamese
(includes Categories, General Information, and Nomination Guidelines)
2021 Spotlight Awards Online Nomination – English  (Open until Friday, January 15th, 2021)
2021 Spotlight Awards Nomination Form – English
2021 Spotlight Awards Nomination Form – Spanish
2021 Spotlight Awards Nomination Form – Vietnamese
---